My Predicament
You might not perceive it from beneath my otherwise expressionless and calm demeanor (left):
but I am in the midst of an internal struggle - nay, a battle - within myself; a war of the psychological form that threatens to tear me in half between choosing what I am and what I wish to accept. The mere stress and anxiety this choice has brought to me taints the very sweat on my brow with blood and wracks me with a feverish polarity that seems to seek the mental downfall of its very host. I stand at the gates of an unknown future, ripe with the potential for both fatality and fame. This is what it feels like inside me right now at this very moment.
But in reality, I'm just having a little trouble deciding whether or not the hipster in me can actually stomach the idea of using a blogging site as mainstream as Tumblr.
Yes, ladies and gentlemen, that's what it all comes down to in the end. Tumblr can offer me connectivity and recognition, the likes of which have never before been seen on Blogspot, Blogger, Wordpress or any other sites. Part of me just wants to shoulder the burden my inner-hipster forces upon me and use the resources and potential this site can give me.
But then again, my inner-hipster is a rather big burden to carry. This is the same inner-hipster that makes me record songs off my iPod and put them on a cassette tape because it thinks analog sounds better. Yup. Guess who still keeps a VCR in case people "realize it's potential" again? Yup. Guess who likes to use a jar as a water bottle. Yup. And, not to be forgotten, my taste in music, books, television, movies, and apparel is comprised almost entirely of things you've never heard of. I just used an Oxford Comma in the last sentence, probably didn't catch that did you? That's okay, you've probably never heard of it anyways.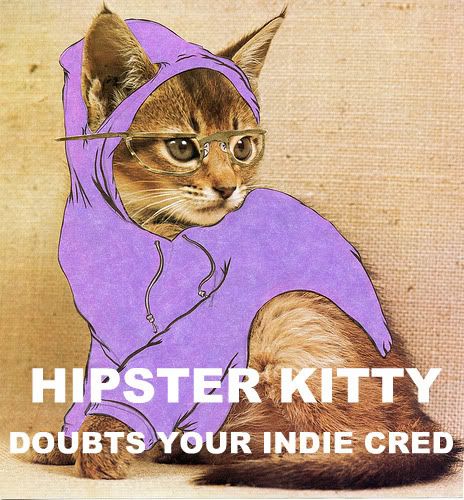 After some thought though, I think I've come to some sort of conclusion. There are plenty of websites out there that are both useful and popular, many popular because they're useful. Some of these sites were created by people not so different from hipsters, with the same mentalities. One of my personal favourite examples of such a site, as well as being the one I most often frequent, is none other than Reddit.
And so, in conclusion, I have decided that Tumblr is just another one of those sites, and that makes me okay with it.
And that means you'll be seeing me on here for a while to come.